Your Dream Does Not Exist You Have To Create It
The International Coordinator of The Wealth Academy
Inspirational Speaker and No1 Amazon Best-Selling Author, Bibi Bunmi Apampa will show you how to Build and Grow Wealth, Become A Serial Entrepreneur Create Multiple Streams of Income For A Stress Free Retirement
Multiple Award-Winning
No1 Amazon Best Selling Author, Thought Leader, Successful Serial Entrepreneur, Top Inspirational Speaker, Chartered Accountant, Trainer, High Performance Business Coach
Bibi Apampa is a Best Selling Author with multiple award winning books on Retirement Planning, A recognized Consultant and Adviser on Rich Retirement Planning. and a Certified High Performance coach as well as a regular trainer on Transformational Leadership, Wealth Creation and Business breakthrough strategies
5 Reasons to book Bibi Apampa to speak at your next event...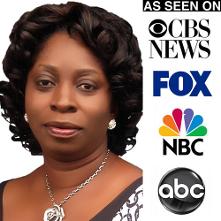 My Passion Is to Build People and Organizations into High Performance Players Making Maximum Impact All Round ...
Ø She knows what she's talking about! With over 18year track record of building businesses and coaching success driven entrepreneurs across the world
Ø Her proven, powerful, practical strategies deliver real results...
Ø She coaches business owners to unlock their hidden profits...
Ø As a Member of the Professional Speakers Association, she delivers presentations on business growth, sales, marketing, and wealth creation so you always get the message that is right for your audience...
Ø Her presentations come with a better than 100% money back guarantee so you are risk free when you book her...
Bibi Apampa's "Turbo" charged training days are booked six months in advance so she's getting booked up fast …call her office now in uk tel (+44) 08450532813 or connect using the CONTACT US page before your date is taken
Please email the following information
v What Is The Best Time For Bibi To Contact You? By phone, email

v When is your Event

v What is the Name Of Your Event:

v What Is The Purpose Of The Meeting?

v What Does Your Organisation Do?



Which Topic Would You Like Bibi To Speak on?

If not sure you can choose from the list below. If you have other ideas / Topic that
You Would Like Please Tell Us:
Building Retirement Wealth
The Exponential Power of the brand known as YOU

Rich Retirement Planning
Creating Multiple Streams of Income
Empowering the Women who empower the nation
Transformational Leadership Skills
Starting Your own Global Small business
Prosperous Retirement Planning
Financial Freedom in 12months
Prospering in the current financial crisis
Sustainable Wealth Creation
Marketing strategies for fast growth
Executive Stress management
Growing your own money tree
Pillars of Kingdom wealth
Make Maximum Impact - Rule Your World
The TOTAL Woman ~ How to Create Personal, Family, and Business Success"
Passive income Strategies
How to be a Superb Leader and Highly Successful Entrepreneur"
The Importance of Cultural Knowledge When Going Global"
Earn it, Keep it, Grow it! Wise Money Management for Modern Times
Unleash Your Star Power!"
Instant Income Strategies Every Businesswoman Needs to Know: How to Monetize Your Business Immediately"
Become a Magnet for Funding as an Enlightened Entrepreneur
How to Take Your Business Global ~ It's Easier Than You Think!"
How to Effortlessly Generate a Six Figure Income by Giving to Others."
Building 8 income Streams
Moving Through Stress Back to Productivity, Clarity, and Focus"
How to Lead Your Audience Powerfully While Being the Authentic and Feminine YOU!

Becoming A Celebrity Influencer
What 3 Key Concepts / Skills / Ideas Would You Like The Audience To Leave With?

Anything Else You Feel We Should Know? Please connect using the Contact Us page
Bibi Apampa's "Turbo" charged training days are booked six months in advance so
she's getting booked up fast …call her office now in uk tel (+44) 08450532813 or use
the Contact Us page before your date is taken!